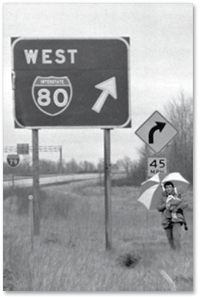 To view individual cards, click here.

About Us | View Unabridged Book | Contact Us
Welcome Fellow Travelers! This site is about Fellow Travelers, a book that has a wildly unique & creative approach to learning about the journey that is life for the Droz family. This adventorous four-decade tradition of sending New Years cards, each of which is a photograph of our family standing in front of a road sign which route number corresponds to the coming New Year. We've prepared a full, unabridged collection of all of the cards with maps, background stories for each location, out takes and personal recollections. See them, share them and tell us your own stories. Fellow Travelers is our story — tell us yours!


Become a Fellow Traveler, click below to follow our families amazing journey over the past four decades.